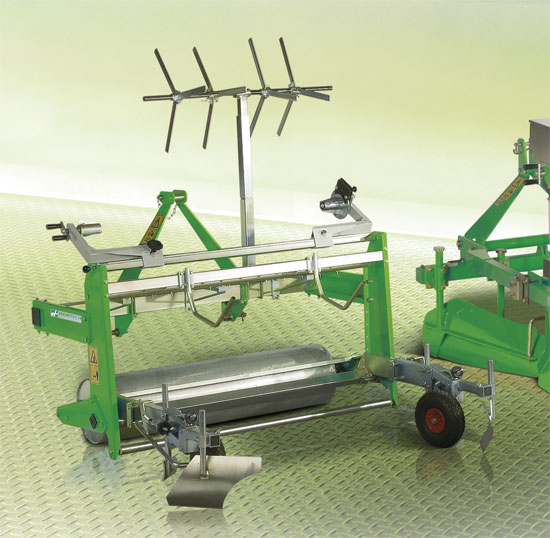 MULCHING MACHINE MOD. P
Adjustable machine, optimal to lay the plastic, cellulosic or biodegradable  film. It is available in two models: P140 for a max. film width 140 cm, P190 for a max. width 190 cm. and both are available with rubber wheels and / or front roller.
accessories:
•Row markers.
•Wheels to punch the film
•Pipe layer
•Hose-pipe layer.
•Fertiliser distributor.
•Insecticide distributor.

MOD.

cm/in
HP/ЛС
Kg/lb
cm/in
P 140

140 / 55,1
Min. 30
260 / 573,2
A: 125 • B: 160 • H: 130 / A: 49,2 • B: 63 • H: 51,2
P 190
190 / 74,8
305 / 672,4
A: 125 • B: 210 • H: 130 / A: 49,2 • B: 82,7 • H: 51,2
Legenda Caratteristiche tecniche



Dimensioni • Dimensions • Dimensiones • Dimensions • Größe • Размеры


Larghezza massima aiuola • Maximum bed width • Anchura máxima de la cama • Largeur maximale de la butte • Maximale Beetbreite • Максимальная
ширина грядки



Carreggiata • Track wheel • Rodada del tractor • Voie • Spur • Колея


Altezza massima aiuola • Maximum bed height • Altura máxima de la cama • Hauteur maximale de la butte • Maximale Höhe der Beete • Максимальная высота
грядки



Trasmissione • Transmission • Transmisión • Transmission • Transmission • Передача


Potenza scatola ingranaggi • Gear box power • Potencia del reductor • Puissance de la boîte de vitesses •
Getriebekraft • Мощность
коробки передач

Potenza trattore richiesta • Tractor power required • Energía del tractor requerida • Puissance du tracteur • PTO Kraft • Требуемая
мощность трактора



Ruote motrici • Driving wheels • Ruedas motrices • Roues motrices • Vierradantrieb • Ведущие колеса


Velocità • Speed • Velocidad • Vitesse • Geschwindigkeit •
Скорость



Peso • Weight • Peso • Poids • Gewicht • Вес


Presa di potenza • PTO • PTO • Prise de force • PTO •
Мощность
Hortech - MULCHING MACHINE P
---