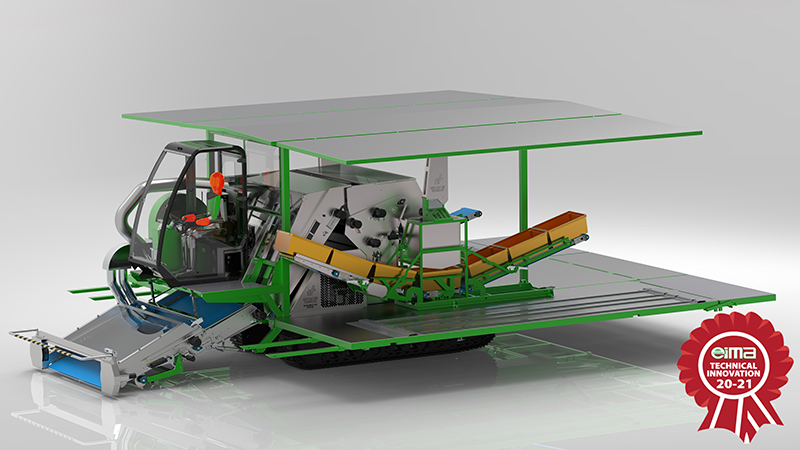 SLIDE TRAX VENTUM
SLIDE TRAX VENTUM is an innovative machine that has a collection capacity of more than 50% compared to a traditional machine, thus reducing the environmental impact.
This machine is equipped with diesel engine, tracks controlled by a steering wheel, selection of foreign bodies and double automatic boxing capable of halving the staff on board.
The new generation DEUTZ brand diesel engine, has a particulate filter at 55. 4 Kw of power.The hydrostatic traction with tracks is controlled by variable capacity pumps and has two speeds: it reaches 5 km / h in the working phase and 10 km / h in the transfer phase. Thanks to the steering wheel it is possible to steer while moving forward or to perform counter-rotation when stationary.
The driver's seat is made up of a heated and air-conditioned cabin located above the cutting bar to ensure excellent visibility for the operator.
The main innovation of this machine is due to the harvest with the transport of the product through a vertical air tunnel. It takes place through two belts which from the first to the second double in speed thinning out the product. A first jet of air transports the cut product to the tunnel vertically placed so as to create an empty space of 30 cm where the product is selected through the difference in specific weight with respect to foreign bodies. The ascent takes place through an air bed and a belt that rotates at a high speed, creating a vortex of air bringing the product to the "Shaker" which is a selector of crop residues.
Then the product is transported by a belt towards the two automatic boxings. The boxing process takes place in 4 phases: arrival of the empty box, filling the box by setting the weight in a scale on the machine, leveling the product on the box and finally the box comes out to be taken by the operator. If necessary, instead of automatic boxing, you can have telescopic belts that allow the product to arrive directly to the bins placed in a side trailer.
MOD.

cm/in
cm/in
cm/in
cm/in
KW
km/h
Kg/lb
cm/in
SLIDE
TRAX
VENTUM
Min. 135/53,1
120 • 130 •
140 • 150 • 160
• 170 • 180 • 200/
47,2 • 51,2 •
55,1 • 59,1 • 63 •
66,9 • 70,9 • 78,7
13/5,1
Max.
48/ 18,8

55
idrostatica
hydrostatic
hydrostatique
hidrostática
hydrostatik
гидростатический
cingoli in ferro • steel
caterpillars tracks • orugas
de hierro • chenille en
fer • Raupen aus Eisen •
металлические гусеницы
0 - 10
5500/
12100
A: 650
B: Max.250
H: 250

A: 255,9
B: Max. 98,4
H: 98,4
Legenda Caratteristiche tecniche



Dimensioni • Dimensions • Dimensiones • Dimensions • Größe • Размеры


Larghezza barra di taglio interno • Inside cutting bar width • Ancho interior de la barra de corte • Largeur de la barre de coupe intérieure • Innere Schnittbreite • Ширина
внутренней срезки



Carreggiata • Track wheel • Rodada del tractor • Voie • Spur • Колея


Ingombro puleggia • Pulley size • Dimension de la polea • Dimension de la poulie • Grösse der Antriebscheibe • Общий
шкив



Trasmissione • Transmission • Transmisión • Transmission • Transmission • Передача


Luce barra interna • Internal bar space • Luz de barra interna • Lumière de barre interne • Innerer Raum des Ernteaggregates •
Внутренний свет

Potenza scatola ingranaggi • Gear box power • Potencia del reductor • Puissance de la boîte de vitesses •
Getriebekraft • Мощность
коробки передач

Carreggiata cingoli • Track space • Rodada de las fajas • Voie des chenilles • Raupenspur •
Колея гусеницы

Potenza trattore richiesta • Tractor power required • Energía del tractor requerida • Puissance du tracteur • PTO Kraft • Требуемая
мощность трактора



Ruote motrici • Driving wheels • Ruedas motrices • Roues motrices • Vierradantrieb • Ведущие колеса


Velocità • Speed • Velocidad • Vitesse • Geschwindigkeit •
Скорость



Peso • Weight • Peso • Poids • Gewicht • Вес


Presa di potenza • PTO • PTO • Prise de force • PTO •
Мощность