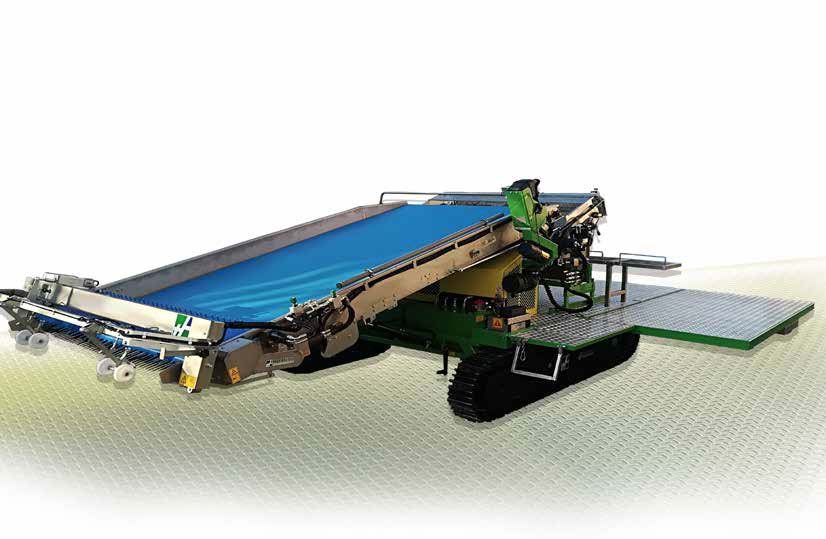 SLIDE TRAX VALERIANA
SLIDE TRAX VALERIANA is the harvesting machine for the harvest of corn-salad grown in greenhouses or in open field.
The innovative cutting system permits to work on any kind of soil, both sanded or normal soil. The connecting rod system allows an alternate movement of the blade, assuring a very good cut at the collar level.
The cutting height is controlled by a control panel with level indicator. The cut product is forwarded on a vibrating belt, which cleans it from the sand or soil, without overturning or turning it continuously.
The belt speed is adjustable. It is possible to start the automatic forward movement.
accessories:
•automated system to load and unload the product into and out of the bins
•shady roof
•fork-lift
•shaker
•guide braket

MOD.

cm/in
cm/in
cm/in
cm/in
HP/KW
km/h
Kg/lb
cm/in
SLIDE TRAX
VALERIANA
Min. 135/53,1
120 • 130 •
140 • 150 • 160 •
170 • 180/
47,2 • 51,2 •
55,1 • 59,1 • 63 •
66,9 • 70,9
13/5,1
Max. 24/9,4
MOTORE/ ENGINE/ MOTEUR/ MOTOR/ MOTOR
DEUTZ TD 2.9 L4 CON FAP 55,4 KW / 74 HP

idrostatica
hydrostatic
hidrostàtica
idrostatica
hydrostatic
гидростатический
cingoli in ferro • steel caterpillars tracks • orugas
de hierro • chenille en
fer • Raupen aus Eisen •
металлические гусеницы
20 x 180 cm / 7,9 x 70,9 in
0 - 7
3500/
7716,2
A: 550
B: Max. 210
H: 145

A: 216,5
B: Max. 82,7
H: 57,1
Legenda Caratteristiche tecniche



Dimensioni • Dimensions • Dimensiones • Dimensions • Größe • Размеры


Larghezza barra di taglio interno • Inside cutting bar width • Ancho interior de la barra de corte • Largeur de la barre de coupe intérieure • Innere Schnittbreite • Ширина
внутренней срезки



Carreggiata • Track wheel • Rodada del tractor • Voie • Spur • Колея


Ingombro puleggia • Pulley size • Dimension de la polea • Dimension de la poulie • Grösse der Antriebscheibe • Общий
шкив



Trasmissione • Transmission • Transmisión • Transmission • Transmission • Передача


Luce barra interna • Internal bar space • Luz de barra interna • Lumière de barre interne • Innerer Raum des Ernteaggregates •
Внутренний свет

Potenza scatola ingranaggi • Gear box power • Potencia del reductor • Puissance de la boîte de vitesses •
Getriebekraft • Мощность
коробки передач

Carreggiata cingoli • Track space • Rodada de las fajas • Voie des chenilles • Raupenspur •
Колея гусеницы

Potenza trattore richiesta • Tractor power required • Energía del tractor requerida • Puissance du tracteur • PTO Kraft • Требуемая
мощность трактора



Ruote motrici • Driving wheels • Ruedas motrices • Roues motrices • Vierradantrieb • Ведущие колеса


Velocità • Speed • Velocidad • Vitesse • Geschwindigkeit •
Скорость



Peso • Weight • Peso • Poids • Gewicht • Вес


Presa di potenza • PTO • PTO • Prise de force • PTO •
Мощность